by tolanic, at 6:39 pm
Creative | permalink
Step 1


Firstly, a straight vertical is created with the CVs placed every 2 grid lines using snap to grids, which totaled up to 8 CVs.
Step 2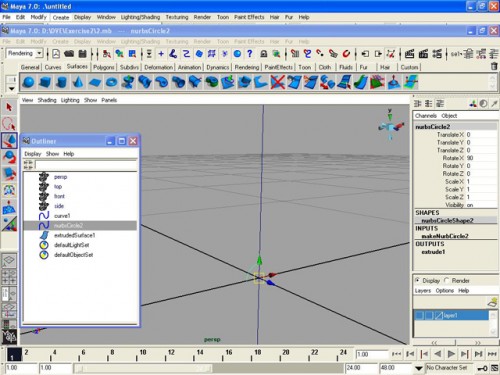 Then, I created a NURBS circle with some of the attributes in Input channel modified.
Translate X: -0.5
Rotate X: 90
Radius: 0.04
Sweep: 90
Sections: 3
Step 3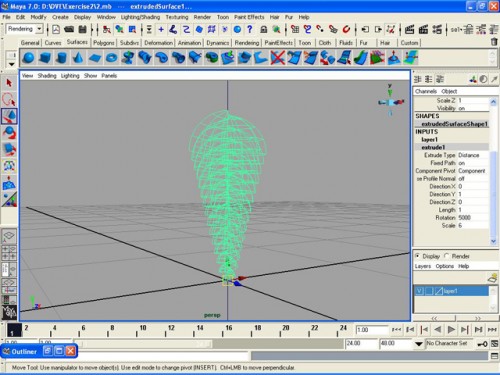 Extrude is applied to the NURBS circle and Curve. After that, I selected the Surface and have these attributes modified.
Extrude Type: Distance
Fixed Path: on
Use Component Pivot: on
Use Profile Normal: off
Rotation: 5000
Scale: 6
Step 4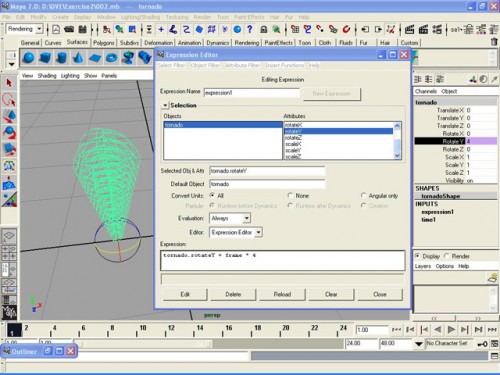 To give realistic rotating look to the tornado, I selected its surface, and changed the Rotate Y attributed in Expression Editor.
tornado.rotateY = frame * 4
Step 5


To add some dynamics, I switched to Dynamics Mode. The tornado surface is selected and Particle is created using Emit from Object (Emitter Type: Surface).
Rate: 1000
Speed: 0
Step 6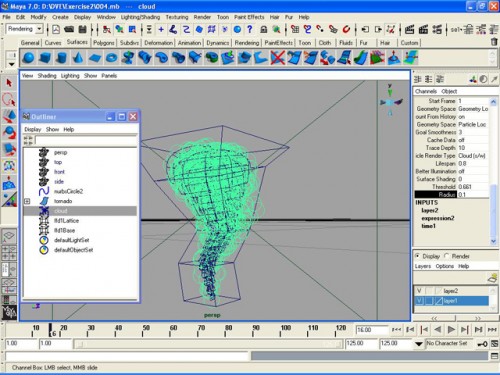 To improve the particle and have it stay on the surface, I changed some of the particle attributes.
Lifespan Mode: Random Range
Lifespan Random: 0.25
Lifespan: 0.8
Particle Render Type: Cloud (s/w)
Radius: 0.1
Threshold: 0.661
Step 7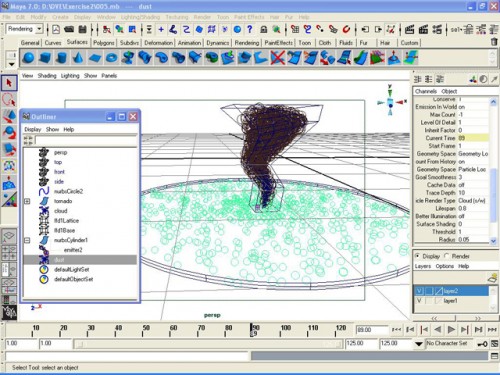 To make it more interesting, I added a NURBS Cylinder and modified it using the same method.
Lifespan Mode: Random Range
Lifespan Random: 3
Lifespan: 0.8
Particle Render Type: Cloud (s/w)
Radius: 0.05
Related Articles: