by tolanic, at 5:47 pm
Creative | permalink
Tolanic's Travel Blog has a new layout design. The theme color for my travel blog is blue because this is my favorite color. I chose the light blue to make the blog look neat and relaxing. At the same time it will reduce the distraction when reading the contents. I love simple. That's why I didn't put too much fancy things.
All the things in my design have meanings. I put the buildings to portray the writer loves traveling around the world. The aircraft is a symbol of my passion. The clouds are the symbol of freedom. I am still thinking where to put the rainbow.
I have spent up to 4 hours to finish up the new theme. I start it from the scratch.

The new look of Tolanic's Travel Blog.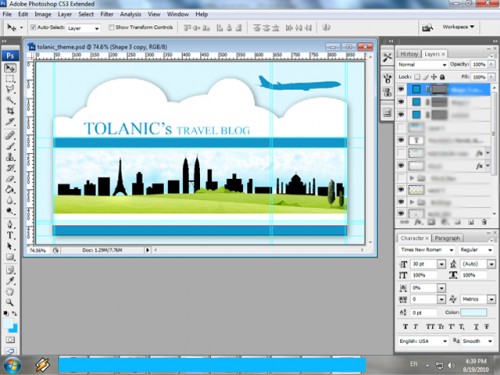 I have designed it using Adobe Photoshop.

And code it using Adobe Dreamweaver.
What do you think about the new design? Is it better than the old one? If you have any comment, do not hesitate to leave a comment. =)
Related Articles: