by tolanic, at 10:51 am
Etc | permalink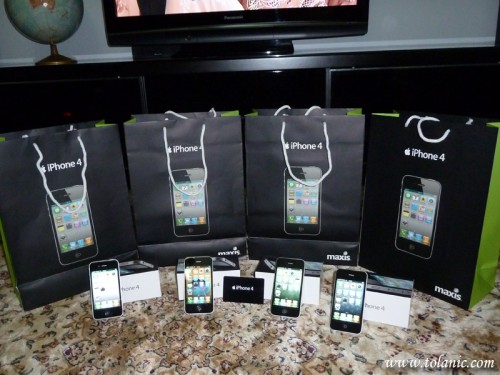 Finally, I got an iPhone4 on the second day after it first launched in Malaysia. I have waited about 8 hours to get the phone at Maxis Sunway Pyramid. That was crazy. The process is a bit complicated. There are 5 steps before I can officially get the phone.
Frankly speaking I prefer to get the iPhone4 without contract but I got no other choice. I have to subscribe their plan. I chose Maxis because DiGi only offer 24-month contract. Even though I still prefer DiGi line than Maxis but I have to sacrifice it because I want to settle the contract as soon as possible. The best solution now is Maxis because they offer 12-month contract. I took the iValue1 iPhone4 32GB plan. For this plan, I paid RM1990 for the phone and RM200 for prepayment of monthly fee. The total is RM2190. The monthly fee for this plan is RM100. The grand total for the whole 12 months contract is RM1990 + (RM100 * 12 months) = RM3190.
Not much review I can write regarding the iPhone4 because I am not a gadget reviewer. Based on my first impression, the box looks very cheap. The manual too! I also need to change the normal SIM card to Micro SIM card. Very hard for me to swap with other SIM cards after this. The only major thing I dislike about touchscreen phone is the keyboard. It is very tiring to type the SMS and also chatting on MSN. It is also not suitable for those who have big fingers. Overall, I love this phone. It suits all my need.
Related Articles: