by tolanic, at 7:33 pm
Make Money Online | permalink
Are you making the right choice by choosing Advertlets?
Planning to migrate to Advertlets? Are you sure they are reliable?
Who are they?
First of all, Advertlets Sdn Bhd (774851-T) is a Malaysian small private limited company specializing in blog advertising network. They are focusing in Malaysia and Singapore. This company was founded by J L. Their office located at ….? Aha, do you know the address? Where to find the address? Anyone know? Can you find it? Of course you can't. You cannot find the office address in their official website and even at the brochures for the advertisers. This is clearly stated how unreliable this company is. Why you are so scared to put the office address if you are honest in doing the business? For those who still cannot find their office, I will give you a clue. Their office is located somewhere in Plaza Damas.
What is Advertlets?
Advertlets is a platform for bloggers to earn money from their blogs. Advertlets act as a middleman between bloggers and advertisers. They will pay bloggers based on impressions (CPM). They charge about RM15 / 1000 impressions for image banner ads (CPM) to the advertisers.
What is their history?
On early 2008, this IT-related company created panic among bloggers because Mr. J forgot to renew the domain name. Many of bloggers including me have removed the ads since then. They also failed to make the bloggers HAPPY because the support team was extremely poor. Most of the bloggers until now still haven't received the payments. Don't forget bloggers are clients too. The key success to any business is maintaining a good relationship with clients. If clients are not happy, highly chance you might failed the business. As a blogger, we are deserved to get the payments because you have already put your ads at our blogs.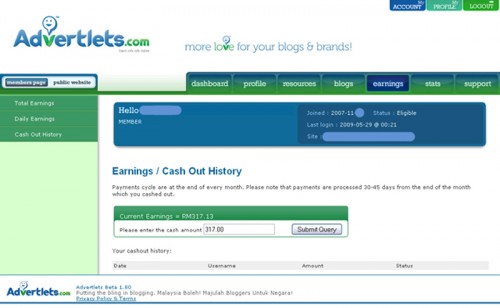 The amount I was going to cashout.

Confirmation window pop up after I clicked submit.

Check the date I took the screenshot.

A year later, the status is still processing.

The earning power is ONLY nice to see.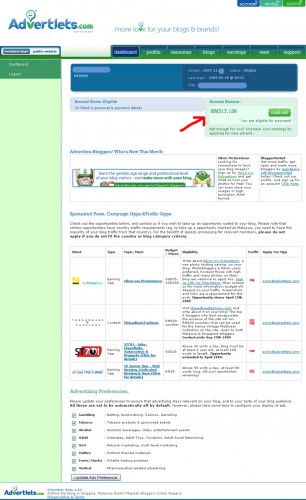 I joined Advertlets on November 2007! This screenshot was taken before I requested for cashout.

This page is coming soon since 2007?


Almost 3 years this page is still under construction.


After few months I kept sending emails to them, finally they replied. A hope?


No, it was just a false hope. This is the last email from them. After that, no more update already until today.
As a conclusion, I hope my readers don't get cheated by them. Anyway, it's up to you to decide. Good luck and happy blogging!
* To Mr. J, I think you are not suitable to hold the entrepreneur title. Maybe you are more suitable to work under people as an employee.
ADVERTLETS NOT PAYING!
Related Articles: